Floor Care
Clean flooring improves the look and feel of an entire facility. Clarkson Supply has products, chemicals, and equipment to care for all of your flooring needs. From tile to stone, concrete to wood, and vinyl to carpeting, these high-quality floor products and chemicals will safely get results and improve efficiency.
Products include: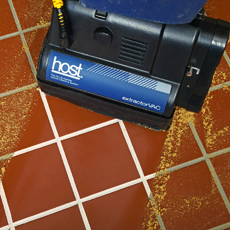 Clarkson Supply has the equipment you need to get the job done. Whether dealing with normal maintenance in small quarters to big messes and large facilities, Clarkson Supply has the products you need, the customer support you desire, and prices that will fit your budget.
Clarkson Supply offers many floor cleaning options with chemicals or with Green Seal® certification. Environmentally friendly options include Tennant®'s innovative ec-H2O cleaning systems - available in many floor scrubbers. The ec-H2O technology electrically converts water into a cleaning solution that cleans effectively, saves money, improves safety and reduces environmental impact. Click here to read more.
Tennant®'s FaST Foam-activated Scrubbing Technology is Green Seal® certified and uses 90% less cleaning solution and 70% less water than traditional floor-scrubbing methods and is available in many floor scrubbers as well. Click here to read more.
Unsealed Grouted Floors
Clarkson Supply's grouted floor extraction machines through Host® provide incredible results in minutes. The work is done with environmentally friendly, biodegradable products that are pre-mixed and ready to use. Clarkson Supply rents the Host® machines and sells the products at cost effective prices.
Regularly caring for the carpet in your facility will provide a healthful, clean, attractive appearance and maintain the life of your carpeting. Clarkson Supply rents and sells vacuums and extractors by Host® and Tennant® that remove dirt and cost-effectively extend carpet life by preventing re-soiling, avoiding toxic chemicals, and eliminating downtime. Cleaning products and chemicals are also sold by Clarkson Supply.
Our long-standing commitment to quality products, environmentally friendly options, and exceptional service make the choice easy.
Clarkson Supply provides the following carpet cleaning products:
Vacuums with heavy-duty, lightweight, single motor, dual motor, wet-dry, and wide-area vacuum options

Upright
Canister
Backpack

Extractors with include riders, pull back, and forward push designs
Carpet Cleaning Chemicals and Detergents (most with Green Seal® certification)

Dry and Wet Carpet Cleaners
Fragrance Free
Spot Removers - food stains, pet stains, browning, de-icing salts, iodine, and more
Traffic Lane Boosters
Odor Removal
Vinyl, Terrazzo, Linoleum, Tile Care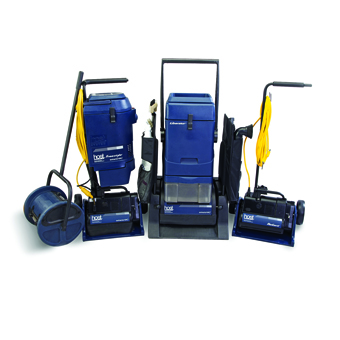 Finishes (Versatile, High-Speed, No-Buff)
Seals
Green Seal Certified products
Static Dissipative
Restorers
Dust Mop treatment
Strippers
Cleaners
Maintenance
ec-H2O Chemical-Free floor cleaning
Concrete Care
InstaCure® Coating
Eco-HTS 100™
Constant Shield ® Industrial Coatings and Sealers
Wood Care (link to Gym Floors)
Court Shield
Poli-Mirro Finish
Wood Cleaner
Stone Care
StoneShield seal/finish
Super Clean Shine cleaner