About Clarkson Supply
Begun in 1919 as Clarkson Supply, over the past 95 years our company has grown and evolved. As of July 2014, Clarkson Chemical changed our name to Clarkson Supply, revamped our website and updated our logo. Although we've undergone changes over the years, we have kept many things consistent, such as our commitment to high-quality products and excellent customer service.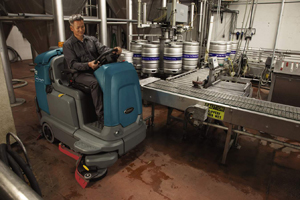 Since 1982, our owner, Mike Stuempfle, has been carefully refining Clarkson Supply, hiring and training dedicated staff, and identifying ways to further grow the business. As a result, Clarkson Supply has grown more than three-fold, expanding our product offerings, training, and service to many areas within Pennsylvania and nation-wide.
The driving focus of Clarkson Supply over the years has been and continues to be our excellent customer service. Our many long-time employees are knowledgeable and caring. Everyone at Clarkson Supply works hard to ensure all of our customers receive the best, safest products with the training and support they need.
Clarkson Supply employs more than ten staff people out of our Williamsport, Pennsylvania office. Our staff is well-trained with many specialties. Clarkson Supply's staff provides demonstrations, training, and service for our customers on cleaning supplies, machinery, rental equipment, pumps, and more.
A future outlook is important to Clarkson Supply as well. Recent expansions include the addition of the Tennant Equipment line in February 2013. Clarkson Supply became the exclusive HOST floor care and Multi-Clean product provider in the North Central Pennsylvania area. We also have grown our offering of green products for environmentally friendly cleaning options.
Innovatively creating custom cleaning solutions to fix problems our customers face is a special facet of Clarkson Supply's capabilities. We are proud to work with three manufacturing chemists to create specialty cleaning products when other solutions have not worked. One example is the creation of a more effective and safer oil rig cleaning product featured here.