Cleaning Supplies
When it comes to cleaning, Clarkson Supply has you covered. Clarkson Supply's commitment to quality, high-performance cleaning supplies and chemicals will keep your facility clean, healthy, and attractive. Clarkson Supply also carries a broad selection of non-phosphate environmentally-friendly cleaning supplies and green-certified products to ensure safer and healthier indoor environments.
Industrial Strength - Impressive Results
Clarkson Supply provides industrial cleaning supplies for nursing homes, hospitals, schools, universities, fire companies, offices and more. We are trained to help customers with large and small facilities get the job done well with brands like Multi-Clean®, Truekleen, Airx Laboratories, Clausen Carpet Solutions, One Up Floor Care, e-clean, Tennant®, and Host®.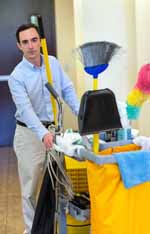 Clarkson Supply carries many supplies and chemicals for:
Carpet Care
Chlorination
Cleaning and Degreasing
Concrete Care
Dilution Control Systems (and Super Concentrates)
Disinfecting
Dispensing Systems
Equipment
Floor Care (Stone, Tile, Wood)
Food Service / Kitchens
Furniture
Glass and Windows
Green-Certified Products
Gym Floors
Industrial Laundry
Melting Ice (Ice Melts)
Odor Control
Oil Rig Cleaning
Restrooms
Skin Care / Sanitation
Warewashing
Weeds (Weed Killers)